Chilworth Manor Classic Cuvée Alwyn




Our 2018 'Alwyn' Classic Cuvée, named after a Saxon nobleman and first known resident of the original Saxon manor of Chilworth, can be enjoyed as an aperitif as well as an accompaniment to a meal.

A Classic Method sparkling wine blended from hand-picked and gently pressed Chardonnay, Pinot Noir and Pinot Meunier grapes and a drop of brandy made from our wines, it has benefitted from over fifty months on lees. Pale straw in colour, the 2018 vintage abounds with toasty brioche notes on the nose and delivers a warm and rich mid-palate depth with a long and perfectly balanced finish.

Chilworth Manor Glögg





Chilworth Manor Glögg, a spiced mulled wine, is a traditional Swedish drink and an important part of the festive season in Sweden. It is made from subsequent pressings of our Pinot Noir and Pinot Meunier grapes grown here at Chilworth and mixed with a blend of warming spices by our local distiller, Silent Pool. The blend is made from cloves, cardamon and ginger among others, with just a hint of citrus, sugar and a drop of gin.




Serve gently heated and add a few blanched almonds and raisins to the drink. Gingersnaps, gingerbread, and cinnamon rolls are pairings associated with glögg, as are good friends and family!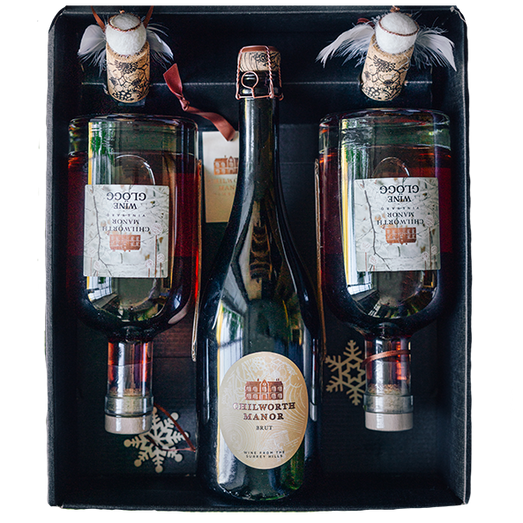 Chilworth Spice Mini Case
Introducing our Chilworth Spice Mini Case perfect for gifting and celebrating.
The case holds two bottles of our Chilworth Manor 
Glögg and 
a bottle of our newly released Chilworth Manor Classic Cuv
é
e Alwyn 2018 - presented in a stylish black gift box. 
Look at Learn More what to expect.