Chilworth Manor Classic Cuvée Alwyn




Our 2018 'Alwyn' Classic Cuvée, named after a Saxon nobleman and first known resident of the original Saxon manor of Chilworth, can be enjoyed as an aperitif as well as an accompaniment to a meal.

A Classic Method sparkling wine blended from hand-picked and gently pressed Chardonnay, Pinot Noir and Pinot Meunier grapes, it has benefitted from over fifty months on lees. Pale straw in colour, the 2018 vintage abounds with toasty brioche notes on the nose and delivers a warm and rich mid-palate depth with a long and perfectly balanced finish.

Chilworth Manor Sparkling Pink 2019





Chilworth Manor Sparkling Pink is a Classic Method sparkling wine, vibrant pastel pink in colour with youthful purple hues and a delicate mousse. This wine is blended from Pinot Noir and Pinot Meunier grapes and has abundant fresh red fruit, brioche and almost citrus-like fruit characters on the nose. The palate is creamy, soft and rich with a beautiful ripe, vibrant and crisp acidity that leads to a complex and long finish.

In line with our sustainability aim we have repurposed some of our recycled Sparkling Wine bottles and created stylish candles with a plum & rhubarb and cloudberry & lychee fragrance.




The candles are vegan, made from soy wax and contain an eco cotton wick.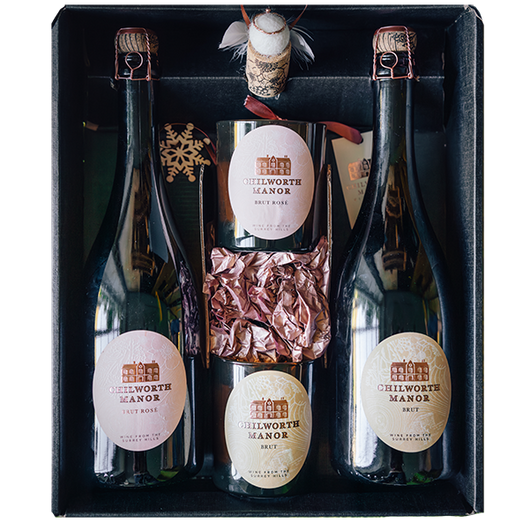 Chilworth Scent Mini Case
Introducing our Chilworth Scent Mini Case perfect for gifting and celebrating.
The case holds our newly released Chilworth Manor Classic Cuv
é
e Alwyn 2018, 2019 Sparkling Pink and plum & rhubarb and cloudberry & lychee fragrance scented candles made in repurposed sparkling wine bottles - presented in a stylish black gift box. 
Look at Learn More what to expect.