The layers of soil beneath our vineyard give our grapes their unique taste comparable with a Provence style pale rosé. Chilworth Manor Rosé 2022 vintage is made from 56% Pinot Meunier and 44% Pinot Noir grapes which started their life growing on a sheltered and gentle south-facing slope adjacent to the Manor. The naturally fertile sandy loam lies on a base of sandstone, part of the Hythe formation.

The grapes were planted in 2014 and although a first harvest was achieved in 2016, we decided to make them benefit from another full growing season before bringing our Rosé to market to ensure better quality and maturity of the wine. The 2022 vintage was excellent, following on from the wonderful summer heat and great conditions over the ripening period

Amazingly, we had almost 100 volunteers to help us during our two days of Harvest over which we picked high-quality grapes that will be used to produce our 2022 vintage Still Rose, Blancs de Blanc and Pink Sparkling wines, which will be released over the years to come.




Chilworth Manor Rosé is bottled by Litmus Wines

Charity has long been an important part of Chilworth Manor and it remains central to our ethos today. The vineyard is committed to continue this ethos and will support Mary's Meals, a charity that aims to provide chronically hungry children with one meal every school day to encourage school attendance. This in turn improves the children's level of education that can lift them out of poverty in later life.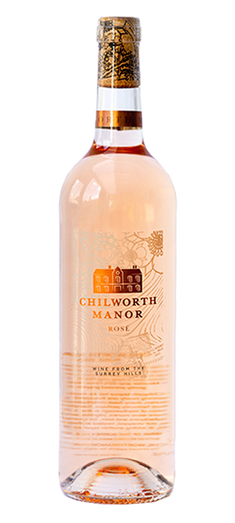 Chilworth Manor Rosé 2022
2023 vintage to be released in May 2024
Chilworth Manor Rosé 2022 has a character of distinct fruitfulness with cranberry and rhubarb on the nose and with a wonderful subtlety on the palate. The wine consists of 56% Pinot Meunier and 44% Pinot Noir grapes which were handpicked by several very helpful volunteers last October.