Classic Cuvée Alwyn 2018




With our vineyard maturing and soon entering it's 10th year since planting, so are our products. Our 2018 Classic Cuvée has benefitted from over 50 months on lees and is our first wine to be christened with a name.




Alwyn was a nobleman and first known owner of the original Saxon manor of Chilworth. His name is derived from Alfwin or Elwin, combining the words oelf and wine, translating from Old English as "wise friend".




We could not imagine a more appropriate character to begin our series of named wines.

The layers of soil beneath our vineyard give our grapes their unique taste. Our Classic Cuvée Alwyn 2018 is made from hand-picked Pinot Meunier, Pinot Noir and Chardonnay grapes which started their life growing on a sheltered and gentle south-facing slope adjacent to the Manor in 2014. The naturally fertile sandy loam lies on a base of sandstone, part of the Hythe formation.

The 2018 season gained something of a celebrity status among British winegrowers. Bud-burst in April led seamlessly to a very even flowering and a subsequent fruit-set that was full of potential. Blessed by almost perfect weather conditions throughout the early season and the consistent warmth of an incredible summer, veraison completed the transition from berry growth to ripening even before the end of August. The vines benefitted from this with extended weeks in which to mature, resulting in a glorious combination of sugars and acidity.




Chilworth Manor Classic Cuvée Alwyn is bottled by Litmus Wines.


Charity has long been an important part of Chilworth Manor and it remains central to our ethos today. The vineyard is committed to continue this ethos and will support Mary's Meals, a charity that aims to provide chronically hungry children with one meal every school day to encourage school attendance. This in turn improves the children's level of education that can lift them out of poverty in later life.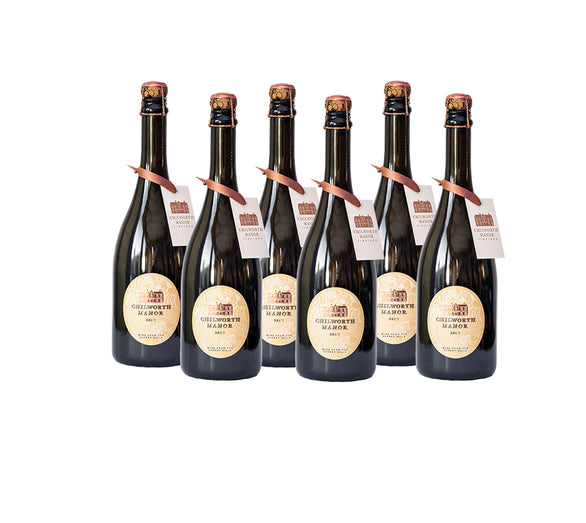 Chilworth Manor Classic Cuvée Alwyn 2018 - case of 6
Our 2018 'Alwyn' Classic Cuvée, named after a Saxon nobleman and first known resident of the original Saxon manor of Chilworth, can be enjoyed as an aperitif as well as an accompaniment to a meal.
A Classic Method sparkling wine blended from hand-picked and gently pressed Chardonnay, Pinot Noir and Pinot Meunier grapes, it has benefitted from over fifty months on lees.  Pale straw in colour, the 2018 vintage abounds with toasty brioche notes on the nose and delivers a warm and rich mid-palate depth with a long and perfectly balanced finish.
Suitable for vegetarians and vegans.